In April this year, CINI India was awarded a prestigious award for its commitment to the right to health of India's most vulnerable communities, the NatHealth Healthcare CSR Award 2023. At a ceremony held in New Delhi, CINI's CEO, Dr. Indrani Bhattacharyya, received the award directly from the hands of the Minister for Institutional Affairs of the Government of India, Shri Rao Inderjit Singh.
The NatHealth Healthcare CSR Award
Every year NatHealth, the Indian federation that brings together different stakeholders from the corporate public and private health sector, awards this award. 63 projects have applied in 2023 to receive this recognition. The jury that was to evaluate them was composed of members of the Indian government's health institutions, a researcher from the Tata Institute of Social Sciences, a member of the corporate world and an expert in health and nutrition from the World Bank.
After careful analysis, the jury chose the "Suswasthya" project by CINI!
The Suswasthya project for the right to health in India
Suswasthya in Bengali means "good health". The project aims, in fact, to ensure the right to health to the poorest Indian communities, and especially to women and children. The activities take place in the Birbhum district of West Bengal. In two years, the project reached 5,724 direct and 50,000 indirect beneficiaries, focusing on high-risk pregnant women, malnourished children and vulnerable adolescents. Through capacity building activities, CINI operators have trained over 4,000 health workers in public services.
The intervention is financed by the Corporate Social Responsibility (CSR) fund of the National Stock Exchange, an Indian government body that regulates the stock market. This partnership between the private social sector and the business world realizes, among others, Goal 17 of the 2030 Agenda.
In the words of CINI founder Dr. Samir Chaudhuri, "this award recognizes CINI as a leader in delivering health and nutrition interventions to support poor communities living in remote, hard-to-reach areas."
Congratulations to the CINI team for the important recognition received!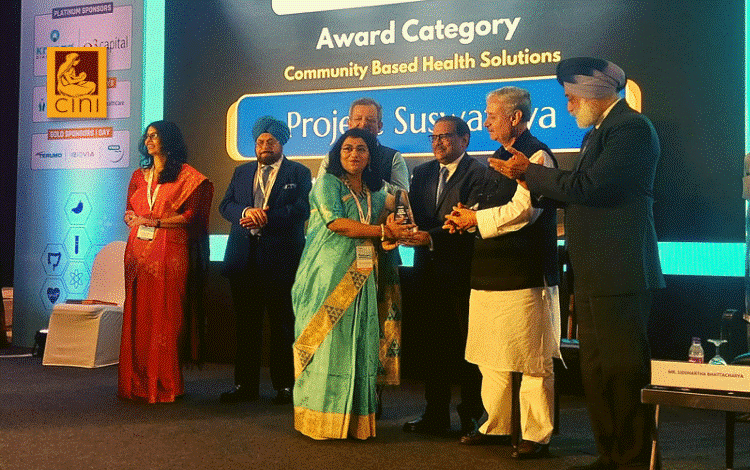 Source: An important award for CINI's work in favor of the right to health in India! – CINI Italy | Help the mother, help the child (ciniitalia.org)