Fundraising for CINI Australia
2020 Killerby Wine Offer: Order Now
Killerby Wines have again made  generous offer of discounted wines to CINI Australia supporters. They will also contribute $20 per 6-pack to CINI Australia. Our supporters have been very pleased with Killerby's previous wine offers.
To take advantage of this offer place your order by 12th July and pick up on 18th July.   Complete the order form with your choices and return it by fax or email.
All further details are on the order form.
CINI Australia Money Box
Email us on admin@ciniaustralia.org and we will post you a Moneybox
You can deposit the money you collect directly into CINI Australia's Westpac Account (details on the box)
Return the Moneybox slip and you'll receive a replacement box.
Post on CINI Australia facebook so others know where to find your Moneybox https://www.facebook.com/ciniaustralia.org/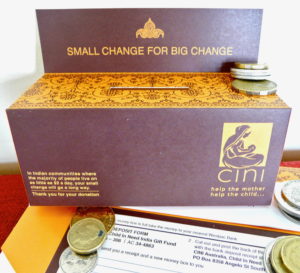 DIY Fundraisers
There re many was to help CINI Australia's work in India
Hold your own fundraiser, dinner or morning tea
Nominate CINI Australia as your annual charity at Christmas
Encourage friends, family and colleagues to contribute in lieu of gifts
Join existing event with CINI Australia as your nominated charity
Nominate CINI Australia to your local Rotary, Zone, Lions etc
Contact CINI Australia if you would like pamphlets, information or someone to speak at your event @ admin@ciniaustralia.org