What We Do
CINI Australia supports a number of programs in West Bengal India through Child In Need Institute, India. We are now seeing the outcomes of these highly effective programs that are changing lives.
The Child Friendly Communities Program build the knowledge and capacity of the community based on the empowerment of local women. By strengthening the self help womens groups and facilitating collaboration between the women, local government and local services changes becomes sustainable.
The IICCHAA program supports children who are affected by HIV/AIDS. It builds the strength and knowledge of the family so that they can provide for their childrens future.
In 2016 the "Child Friendly Community" program started in the 12 villages of Chainagar, Uttar Dinajpur West Bengal. This will reach about 22,000 people, many of whom are tribal groups facing added disadvantage in an already poor area.
Read more about CFC Chainagar
The program was built on the experience of nearby Bangalbari where CINI ran a 5 year program. There have been many changes in the villages with CINI's facilitation. The Women's Self help Groups have become empowered and informed. They have supported the pregnant women to get good antenatal care and safe child birth.  'Drop out" children, girl children, missing children and children in child labour have returned to school. Parents understand the benefits of schooling and are aware of the entitlements available to them . Many young girls have been saved from underage marriage as families now understand the risks to their daughters and the advantages of schooling.
Women have a good understanding of local sanitation and hygiene. They have the capacity to negotiate with local government for their needs. Local councillors and other services respect and value the contribution of women who previously had no voice.
Women, families, councils and government are working together to build a path out of poverty.
CINI's local community and health workers link into womens' self help groups. Many of these emphasize economic development, so CINI focuses on topics of health, education, nutrition and protection. Communities are helped to address child labour, trafficking and family violence issues. Women come to understand their right to services then negotiate can with local councils and government to receive them. Health programs start with mothers in early pregnancy and continue through the life cycle. Health, hygiene, feeding practices, nutrition and reproductive health are important for the whole family.
Child In Need Institute, India
(CINI) works at the grassroots with local women, community groups, volunteers, government bodies to make full use of skills available locally and keeping costs low.We partner CINI in these projects by providing funds as well as evaluating and monitoring the impact and outcomes. Donors will receive updates and hear about what is happening in India.
Rights based approach to development
CINI is piloting an innovative approach whereby it integrates activities in nutrition, healthcare, education and protection in particular geographical areas.The aim of this rights-based approach is to encourage active participation and co-operation of community elected representatives, service providers such as doctors and teachers, local self help groups and the women and children themselves to create child and woman friendly communities.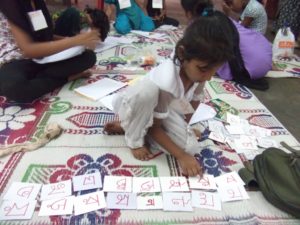 CINI as Community Facilitator
CINI has moved increasingly into a facilitator role in recent years and this is now one of its key activities.
A result of poor governance and lack of understanding throughout the political system is that much of the unprecedented amount of money being allocated to help the poor by the Government is spent inappropriately or simply never reaches the people who need it. Recognising that this is one of the biggest barriers to sustainable development, CINI runs a number of outreach programs aimed at passing on the benefit of its research and experience to those who allocate and effective advocate for the poor. One of CINI's main goals is to listen to what poor women and children have to say. It is vital to find out what they need and to ensure that services and money available are distributed in a way which not only makes sense in their lives but also, importantly, means that they are stakeholders in the process and not just recipients of aid. The levels of Panchayat, locally elected representatives, are critical to ensuring that money allocated by the Government is well spent. CINI works to encourage accountability throughout the system and, at the highest level of government, seeks to influence policy. Having built up an excellent reputation and an extensive network of contacts, it is a significant voice and an implement government resources.
At least 43% of Indian children under the age of 3 suffer from malnutrition. Malnutrition is linked to half of the child deaths in India.
CINIs aims to reach young mothers early in their pregnancy.
A child who is malnourished in the womb or in its first two years of life will not be able to reach its full potential. Inadequate nourishment during pregnancy can result in brain damage, still birth or neo-natal death. A child who is malnourished in the critical first two years of life, is at risk of permanent physiological damage resulting in increased susceptibility to illness and restricted capacity for education.
The problems of malnutrition are not only a lack of food. Many families with limited food do not share it equally. Mothers and infants, especially girls, are rarely priorities. Traditionally women eat last; so when food is scarce, boys may receive more than girls; men more than women; older children more than younger children. Diet is affected by both lack of understanding about nutrition as well as availability. For example, less than half of Indian children under six months are exclusively breast fed.
CINI's nutrition projects focus on educating women, especially pregnant and breastfeeding mothers and their extended family. The health workers are local women who are trained by CINI.
CINI developed the Nutrition Rehabilitation Centre (NRC) where balanced food is provided in small but frequent amounts in order to increase a child's weight safely over a period of several weeks.
This low cost model rehabilitates severely malnourished children as has been recommended in the Right to Food Bill 2009, soon to be tabled in the Indian parliament. It has also been adopted by various state governments as part of the National Rural Health Mission intervention to reduce severe malnutrition.
This is an example of a CINI model becoming used in Government programs.
Only 44% of children between 12-23 months are fully immunized against the six major preventable diseases. Nearly 80% of infants have anaemia. Only 52% have at least three antenatal care visits and only 39% have access to government services for antenatal care and delivery.
Despite India's impressive economic growth, access to and the quality of healthcare have a long way to go. CINI works to fill gaps in the system by providing healthcare services. CINI operates a series of drop-in clinics at its headquarters south east of Kolkata.
Pregnant women and women with children up to the age of five consult doctors and health workers for pre-natal care, breast feeding, nutrition, vaccination and childhood illnesses. Other programs concentrate on distributing supplements such as iron and folic acid to children in disadvantaged communities. All programs incorporate education and development. Other projects include HIV/AIDS education and improving the lives of those with HIV/AIDS through the specialist unit CINI Bandhan.
Children
40 million Indian children aged between 6-11 are not in school. Over half of India's children will not progress beyond elementary school. It costs less than 350 rupees ($10 Australian) a month to support a child in education.
There are many reasons why poor children may not be in school in India. In some cases, they are unable to access education; in others, they are forced to work rather than go to school. Their families often do not value education or may believe that the traditional barriers to progress of caste, poverty and gender are too strong to overcome.
CINI works to identify children who are either not in mainstream education or are in danger of leaving it. It offers bridging courses to enable children who are outside the education system to return to it. Using a network of key workers and counselors who are linked to schools and government, CINI works in local communities to convince families that the benefit of education will, in the long term, outweigh the benefit of the low and temporary wage which a child may earn instead of going to school. CINI also works to overcome forms of social exclusion such as caste and gender discrimination which continue to play a part in keeping children, particularly girls, out of school.
In 2008 alone, 550 children were re-introduced to mainstream education thanks to CINI's efforts.
  Adults
For every year beyond fourth grade that girls attend school their family benefit from increased wages by 20%, reduced child deaths by 10% and family size dropping 20%.
Women's Learning Partnership for Rights
Almost every project CINI undertakes involves education and raising awareness. Health workers are trained to educate women about their health and the health of their children; about how to take care of themselves when they are pregnant and breast feeding; about family planning; the benefit of institutional deliveries; the importance of child vaccination; and prevention of STDs.
Children and families are taught about the benefits of education and adolescents are offered life skills and vocational training courses.
CINI reaches out to government workers at all levels to share its knowledge and help them work effectively in poor communities.
Perhaps most important of all, CINI aims to empower poor women and children by helping them take advantage of their rights and entitlements.
Poor children are vulnerable children
India has the largest population of children in the world but also the highest number of children engaged in work.
These children work not just in sweatshops and domestic service, but also in family businesses, or as carers of other family members. The number of children involved in work which seriously damages their education and holistic development is unknown but ranges from the government's 12.6 million to civil society estimates of 70-80 million children.
Child trafficking is on the rise. Some children are snatched or tricked by traffickers; some are sold by their families (who in most cases believe that their children are being offered a better alternative) or inadvertently handed over to people who enslave them in child labour or as sex workers.
CINI offers a number of education and protection services to children who are particularly vulnerable to abuse and exploitation. These services are concentrated in dangerous red light areas and around stations. In these locations, CINI runs a number of temporary shelters, both on a drop in basis and as a half way house, for children in trouble. It then helps them return to their families wherever possible (often counseling the families in question) and does its utmost to re-integrate them into mainstream society.
In partnership with the government, CINI provides a response team in West Bengal for calls to Childline, a 24 hour free telephone helpline which provides intervention and assistance to children in trouble. It is used by adults and police to report instances of child abuse, child labour and child trafficking but also by children themselves. CINI also operates a helpline for teens and for those with HIV/AIDS, offering them counseling and assistance.
CINI works with the police and judiciary to help track down trafficked children and prosecute traffickers.
Child In Need Institute has been recognized throughout India for its successful training of healthworkers, teachers and community organizations.
CINI trains local women and government workers in all aspects of healthcare so that they can work effectively in the field.
CINI Chetana was set up as an independent body in 1974 in response to the need for training. In addition to training over 25,000 government workers and its own staff, it has conducted training of representatives from over 500 NGOs. It develops training materials and offers support to trainee nurses, nutritionists, teachers and Panchayat members of community based organisations.
CINI has been working with communities to prepare them for emergencies caused by annual flooding in a project funded by UNICEF Kolkata, and local governments.
When cyclone Aila hit West Bengal in 2009, it destroyed homes, crops and livestock. CINI's relief efforts were concentrated on Moipith Island, a remote area of the Sunderbans region. Between May and August 2009, waterpurifying tablets were provided to 20,000 people; 3000 people were fed by community kitchens and sheeting was provided to build shelters for 1000 people.